Looking for recommendations. Will do my DD but want to see what other people are seeing.
$BMBL, I like this stock.  

What I like:
A pure services play.  No inventory, not product.
One of the premier dating sites growing in popularity.  Liked by men and women.
COVID vaccines are being distributed and the worst of the pandemic should be behind us.
While other competitors seem to be playing a price and "free" game, Bumble seems to be going the quality route.
Solid revenue and growth
What I don't like:
Facebook dating is in development and being tested - poses a huge threat
Many competitors in the space
Hoping today is greener than yesterday
Posted in General Discussion
I know, this is a bold statement. But, through this analysis, my goal is to convince you of the wonderful investment aspects that is Stamps.com.
Overview:

Stamps.com (STMP) is a provider of mailing and shipping solutions focused on the United States and Europe. The company goes to market with a wide variety of brands targeting various niches. These brands are largely consolidated into two core segments: Stamps.com and MetaPack. Stamps.com is the company's US-based business and focuses on personal, small business, and enterprise mailing and shipping. Likewise, MetaPack is the company's enterprise-grade platform focused on large e-commerce brands and retailers that are based in the European continent. Stamps.com also has 4 other subsidiaries that all focus on different aspects of the ecommerce mailing and shipping software industry.
How big is this market?

While Stamps.com has been growing at a fantastic CAGR (compound growth rate) rate over the past years, it still has a lot of room to grow: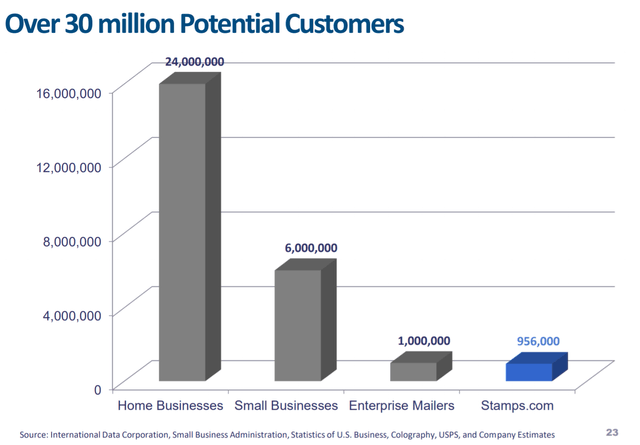 (source: Stamps.com 2020 Presentation)
As you can see, Stamps.com has over 30 million potential customers, with 24 million (80%) being home business, and 6 million of that total (20%) being small businesses. Based on there 2020 results, they gained about 50k-75k new customers from 2020 to 2021. With only that little range of new customers acquired, their revenue grow a whopping 34%, and equity growth of over 40%! Every year, Stamps grows it's customer base by around 5%. As Stamps continues to acquire a larger share of this 30 million customer market, their revenue could be 4x to 7x within the next 5 years.
Overall, Stamps has been benefited from the growth of the e-commerce industry, which has experience YOY growth of over 12%, with 2020 catapulting growth even more:


(source: STMP 2020 Presentation, U.S Department of Commerce)
As you can see, Stamps only represents less than 5% of the top carriers revenue, or $13 billion. This is another example of how big a market there is for Stamps to grow in.
What are the Intrinsic Advantages?
Stamps operates a plethora of some of the most well known e-commerce shipping software's in the world. Knowing this, let me lay out what I have identified as their moats/advantages:
 Core Moats:

Switching: Once a business has used Stamps.com software or subsidiaries, it is very hard to switch to another software. The main reason for this is because the software has all the businesses back orders, online integrations, analytics, etc.

This moat is validated by the company's average customer churn rate (CCR) of 3.2%, which is lower than the industry standard 5%.

Price: Stamps.com software (which is a monthly subscription) is a low cost to businesses, having prices ranging from FREE to $159/month, depending on the business size. Another aspect of this moat is that Stamps can raise their prices by as low as $1/month, which would generate them an extra $12 million in revenue a year! Because of the switching moat, Stamps company prices are very inelastic.

2. Semi-Moats:

Toll: This is the only semi-moat they posses. I say this is a semi-moat because, even though they own mostly all the shipping software companies in the industry
(5 total), there are about 2-3 other companies that offer shipping software to potential customers. Those companies are Shippo, Pitney Bowes (more on that later), and 2Ship Solutions.

Shippo and 2Ship are both very small companies (under $75 million in revenue), and might be desirable acquisition targets for Stamps (especially Shippo).

Overall, STMP possess two proven core moats, and an untested by suspected semi toll moat. These intrinsic advantages are what has been driving their growth since day one. Yes, they have acquired competitors to help with future growth, but their organic growth is very strong and protected and is what will drive there future growth in the next 10 years.

Management:
I always demand a talented and quality management team, who has expressed in the past through their actions that they're focus is on the long-term growth of the business.

Stamps.com CEO, Ken McBride, along with the rest of the management team, definitely fit that description. They are very talented with over 20 years in the industry and at Stamps.com. They care only about the long-term and don't care shit about pleasing analyst projections. Though Ken McBride doesn't write a shareholder letter, which would usually concern me, he has proven himself capable. Let me give you some examples:


 In early 2019, Stamps.com announced the braking of their exclusivity contract with the USPS, which would mean two things. First, Stamps would now be able to offer other shipping carriers on it's software and it's subsidiary's website, Endicia. Second, Stamps would take a major short-term hit financially in terms of revenue and net income. The following three months saw STMP stock crash from $202 to a low of $32! McBride stated that this was best for the company in the long-term and said the company wouldn't prosper in the next 5-10 years if they didn't brake the contract. Well, coming forward a little over a year, STMP stock has hit $285 three times, and is currently at $205, with earnings smashing all expectations. 
     What I learned from this event is that it took guts for McBride to say "The hell with your analyst projections, we're going to do what's best for the company". I know only a handful of public company CEOs that would do that.
 2. As early as this week, the company reported a blowout quarter. And yet, the stock tanked around 18% the following day and around 7% the day after. Why? Simply because the analysts were expecting the management to give guidance, which they refused to give. One analyst was so unhappy that he ask on the quarterly conference call, "If your not giving guidance for 2021, can you give any sort of guidance for 2022?", which naturally is a stupid question, but, the management said no.
Why does this show management quality? Well, Warren Buffett says that he doesn't like management who give guidance and tout it on quarterly calls. The fact that McBride and the executives gave no guidance after such an awesome quarter is another testament to the long-term thinking of the CEO and management.
You might be wondering, "If this management is so good, than why does Ken McBride own hardly any shares?". Which is a fair question. First, McBride owns about $200,000 shares worth, about 1,000 shares. In my opinion, some CEOs prefer benefits than stock grants. McBride seems to be that kind of CEO. He holds a six figure stake in the company, but prefers to be paid in options and grants, which is not pad if he's doing a good job running the company, which he is.
Even though I do look at how much the CEO holds of his own company, I look more at operational excellence and past management decisions that will help me determine weather the CEO thinks short-term or long-term.
Overall, I would give Stamps.com management an A grade for their operational excellence and candor.
USPS:

Stamps.com has had a long standing relationship with the United States Postal Service. Simply put, Stamps customers use mainly USPS, which means a lot of revenue is derived from it. People have been worried as of late regarding a USPS potential bankruptcy. Although I could explain it here, how about hearing the CEO, Ken McBride, himself on it:


Subsidiaries: Exploiting Hidden Value
As I mentioned in the overview, Stamps.com operates a plethora of subsidiaries. After some
insanely
hard research on the company's acquisitions, here's a run down of what I found:
 ShipStation: ShipStation was acquired by Stamps.com on June 10, 2014 for ~$66 million. I have come to the conclusion that this might have been their best acquisition. ShipStation over the years has become one of the "go to" softwares for small and large businesses, so much so that you might seen them advertising during NFL game commercials. I believe from the point of acquisition to today, ShipStation as an asset is worth about ~$189 million. 
ShipWorks: ShipWorks was acquired by Stamps.com on August 29, 2014 for ~$22 million. ShipWorks software targets mainly high-volume shippers and large companies. I estimate SW as an asset to be worth ~$63 million.
Endcia: Endicia was acquired by Stamps.com on November 18, 2015 for ~$215 million. This was their second largest purchase. Endicia branded solutions are multi-carrier mailing and shipping solutions targeted primarily by very high volume shippers (warehouses, fulfillment houses, large retailers, etc.). I estimate Endicia as an asset to be worth ~$413 million.
Shipping Easy: Shipping Easy was acquired by Stamps.com on July 1, 2016 for ~$54 million. Shipping Easy is targeted mainly by small to mid-sized businesses. I estimate Shipping Easy as an asset to be worth ~$70 million. (They overpaid for this one).
Meta Pack: Meta Pack was acquired by Stamps.com on August 15, 2018 for ~$217 million. This was the companies single largest acquisition. Meta Pack  offers worldwide shipping and delivery solutions and post-purchase optimization tools targeted at brands and large omni channel retailers. I estimate Meta Pack as an asset to be worth ~$301 million. (This was the second smartest acquisition after ShipStation).

Throughout these acquisitions, Stamps kept their cash:debt ratio (the amount of cash to debt used to acquire a company) at a shocking 2:1. This means that Stamps.com used $2 in cash for every $1 in debt used when making an acquisition. As a matter of fact, the last two acquisitions (Shipping Easy and Meta Pack), which cost a combined $271 million, the company paid for with cash from it's FCF. #freecashflow

Finally, and here comes to exciting part, Stamps.com has a hidden ~$462 million in asset value. How did I calculate this? Well, first you must understand a basic public company accounting rule:

"A company can only list the value of any assets on the Balance Sheet at cost and not at current value" - GAAP accounting rules.

This means that if a company subsidiary was worth 50% more than what they bought them at 3 years ago, the company would not be able to list that current value on the balance sheet. This is were us researchers come into play! I dug deep and believe I have found a pretty close estimate to current asset values of all Stamps subsidiaries, which I mentioned above for each subsidiary.

So, how did I get the extra $462 million in value? You add the total amount of estimated current asset value of all the subsidiaries minus what Stamps.com paid, and that gives you the current return on investment, which is $462 million, a 105% return!

If my estimations are even somewhat accurate, this means that the equity and assets on Stamps balance sheet is actually higher, up to $462 million higher! 😇

Financials:
Stamps.com has one of the best financials in the entire applications software industry, and much better than any competitors. Let's compare Stamps.com financials to one of it's closest competitors, Pitney Bowes, and a non-competitor but none the less a very popular software company, Shopify:

(Note: I'm not using 2020 because it was not a regular year of standard growth for these companies, and might make them look better than they are.)

Year                                          Stamps.com        Pitney Bowes          Shopify       

2019

Revenue Growth (CAGR)                 17%                        4.7%                     39.7%

Avg. Net Income Margin                 29%                        6.0%                     -5.0%

FCF/Revenue                                  47%                        3.5%                      0.5%         

Equity Growth                                10%                        15%                       48%

Debt/Assets Ratio                            0:1                         1:1.5                       0:1

This is were the rubber hits the road:
10-Year Average.
ROE (return on equity)                   20%                      136%                   -3.5%           
ROIC (return on invested capital)   19%                        8%                     -3.5%

Overall, Stamps looks to be the better company. PBI (Pitney Bowes) seems to have a cork in the place where grow is supposed to flow? Shopify is a fast growing company, but can't convert revenue into net income or free cash flow at a large enough rate to sustain that growth over time. Stamps.com on the other hand boasts a steady growth rate of revenue, and when it comes to revenue conversion, none of these companies even comes close to what Stamps is doing. Just look at it! Stamps converts a monstrous 47% of their revenue to free-cash-flow!

Fun fact: Stamps.com in a regular year has 20x the amount of free cash flow that Shopify does, even though Shopify is 4x bigger than Stamps! 😲

But, the real telling numbers are ROE and ROIC. Stamps.com of course has 20% in return on equity and 19% in return on invested capital. And has maintained those averages throughout the years. Don't even try to explain your way out of Shopify's negative ROE and ROIC (note: I had to use a 7 year average because SHOPs public filings don't go back 10 years). Pitney Bowes had strong ROE, but because this is an average of 10 years, it hides the most recent ROE of -273%, yeah, not so good.

The Power of Free Cash Flow:

The main reason Stamps is better than other companies like Shopify is because of the insane (and consistent) free cash flow they generate every year. If your new to this, free cash flow is the amount of money a company has after paying all capital expenditures, and dividends. Essentially, free cash is the amount a company can spend after every single expense has been paid. This is why we call it "free" cash flow.

Stamps is a master at generating massive amounts of FCF. The main reason for this is because of the low amount of capital expenditures the company has every year. The company pays on average $4 million a year in capital expenditures (Cap Ex). The reason for this is because their software does not require much maintenance.

Let me give you some eye popping numbers to enjoy:

    Stamps.com:                        2019                2018                 2017
Free Cash Flow                   $134ml              $273ml          $190ml     

Even in the year they broke the USPS contract (which hurt revenue and tanked net income), Stamps still had a whopping $134 million in free cash. Before that year, the companies FCF was growing like crazy. The main reason they acquired so many companies is because of their strong amount of FCF. In 2020, Stamps looks to have over $350 million in FCF based on their newly released income statement and balance sheet.

Overall, it seems that the most consistent growth and margins come with Stamps.com. No matter how you slice it, STMP is the better company.

(If your a SHOP or PBI stock owner, you should be a little embarrassed right now!)
         
Summary:

I know, it got messy! Here's my closing thoughts:


STMP has a sustainable and predictable business model with growing revenue and mountains of free cash flow.
The potential risk of a USPS bankruptcy is very low due to government support.
CEO and management are long-term, owner oriented, and excellent capital allocators.
STMP's subsidiaries are extremely valuable, with a potential $463 million in hidden asset value.
The market has mispriced Stamps.com simply for not giving guidance. This is pure stupidity by the market which offers a fantastic buying opportunity.
Stamps.com spends about $75-$120 million a year on share buybacks. In five yours, the company would have repurchased about 20% of its own stock.
No debt of any kind on the balance sheet.
Consistent revenue conversion driven by established and profitable margins.
As Covid-19 effects on online shopping wear-off, Stamps.com will continue to grow organically by 15%-20%.
Strong defensible moats that have been proven over the last couple of years.
My valuation/buy price target for them is $215. The current price crashed from $268 to $204 with two days. This provides an excellent opportunity. 
Based on past growth rates and overall company strategy, I believe Stamps.com stock will be touching $350 next year, $750 in three years, and $1k+ in five.

As always, it's my pleasure to provide you with insanely long stock analysis reports. 😅

Cheers!
https://www.wallstwarriors.com/c/calebs-stocks
I think this is gonna be a 10.00 dollar stock. its at 2.51 now and on march 30th they are going public with trueforma, this is gonna be huge... what do you guys think... help a brother out, i need to make money, i am a new dad and i need to make some cash.....
Healthier Choices Management Corp has released their Form S-1/A. This form is quite literally everything you need to know about the rights offering. I will warn you that there are 122 pages however, there is a table of contents that outlines everything in it so that you can go to a specific section. The form can be found
here
.
Use this thread to discuss today's market activity. 
Posted in General Discussion
Guys. ... Guys. I'm too excited for RBLX. Like, almost as excited as I am for SODI. But seriously, help a newbie out here. I've never bought an IPO before. And I have no clue how to create a strategy. I don't want to get in just as the stock goes through the roof and then bottoms out on me. I mean, I'm planning to hold RBLX for years, but still. I'd prefer not to mess this up in the short term if I can help it. 
This is so ridiculous but I might have to drop a large chunk into this when it arrives. There are selling direct, which I assume means you don't have to wait for a pre-release slaughter to get your shares.
Posted in Trading Platforms
When you could just use etrade and not get fucked?