This site is growing much faster than I expected. Thanks to everyone who's joined and let's keep it rollin'! Not even a week old and we're over 1500 members. Crazy!


I think this is gonna be a 10.00 dollar stock. its at 2.51 now and on march 30th they are going public with trueforma, this is gonna be huge... what do you guys think... help a brother out, i need to make money, i am a new dad and i need to make some cash.....
$BMBL, I like this stock.  

What I like:
A pure services play.  No inventory, not product.
One of the premier dating sites growing in popularity.  Liked by men and women.
COVID vaccines are being distributed and the worst of the pandemic should be behind us.
While other competitors seem to be playing a price and "free" game, Bumble seems to be going the quality route.
Solid revenue and growth
What I don't like:
Facebook dating is in development and being tested - poses a huge threat
Many competitors in the space
Posted in General Discussion
After checking in on WSB just to see what's happening there, I am so appreciative for 

Matt Bennett

making this site. A place for adults to talk intelligently instead of combing through the same immature, anonymous internet insult jargon. Enriching that community just doesn't feel deserved. Glad this space is here.
A lot of people are calling 3D printing the 3rd industrial revolution, and they're not wrong. The 3d printing space took a hit over the last 10 years because people were expecting huge things from it and the 3d printing tech wasn't quite there yet. But the 3D printing space is finally making a comeback. 

Additive manufacturing (aka 3D printing) allows companies to produce parts and pieces, prototypes, and even microprocessors faster, cheaper, and much stronger than regular subtractive manufacturing. 

It's the way of the future, and is only just beginning. Here are some my three favorite 3D printing stocks to invest in if you want to gain some exposure to the space:


3D Systems (DDD) - One of my favorites. I found this at $4.85 and it's now over $50! But tbh they're just getting started. They just finished restructuring their company and it's looking good, and are one of the top 3D printing companies in the world.
Stratasys (SSYS) - Another huge 3D printing company and a favorite of Ark Invest 
Nano Dimensions (NNDM) - This one has barely taken off yet. I found this in the $6 range, and it's now at $16. They 3D print microchips that are used by militaries, and the aerospace industry. They won't really hit their stride until later 2021. Israel based company and super smart CEO. Once Apple starts using their tech.... 🚀 Also, ARK has been loading up on this one.
There are other great companies like Proto Labs, but these are my 3 favorite. I personally think these are all going to 10x within the next 5 years because their technology is disruptive and instrumental in growing the future.
I'll be using the "# Day Trading with Mitch" channel to drop tips, screener information, articles on how to get started, different types of strategies, etc.. If you want me to explain something specific, send me a DM and I'll create an article for it or find an article that explains it pretty simply.

The "Day Trading" channel I'll post my daily picks. I'll always try to post my morning pre-market tickers and then I'll update near 7am and then near 9am if I can. 

I do have a 9-5 job, so if you DM me during the day M-F I most likely won't answer till my lunch break or until the evening. 

On weekends I do go hiking quite often and I'm in the process of getting my pilot's license so I'll probably won't be able to return DMs or respond to comments till the afternoon. 

If you are going to DM me a Ticker, please explain your thought process on why your choosing that ticker. By you explaining your thought process I can help you correct your way of thinking and/or I can learn something new.

My hope is to make you a better day trader. If you outshine me, then you can take over the reigns and I can slip back into the shadows.  

It is good to have an end to journey toward, but it is the journey that matters in the end. - Ernest Hemingway

 
Posted in Sharpen The Sword
 A lot of "new" investors tend to go with the crowd (thinking GME, AMC, etc), while that can be a source of fun and excitement, investing should be taken very seriously, because it's your money that's on the line.

This is the first of five (that's right, five) posts about helping you find companies you might want to invest in, and the best ways to analyze an investment.

By the end of it all, you'll know how to pick the right companies to invest in, how to analyze company management, what numbers to look for on the financial statements, and more!

I know a lot of new investors need guides like this, so now your wish will be granted! But, you must be willing to put in the work to be a successful investor!

Enjoy article 1 of 5 "Circle of Competence".

Finding your "Circle of Competence":
What is this anonymous circle you ask? Simply put, a circle of competence is exactly what it sounds like, it's a list (circle) of industries and sectors of the market you can fully understand. No matter what investing strategy you choose, having a CC should be a requirement for every one investing in stocks. It is a simple way to remind yourself what to research and what to look for when trying to find an investment.

For example: The Aerospace & Defense industry (Boeing, Airbus, Lockheed Martin, etc) is NOT in my circle of competence, simply because I find it to hard to understand and I'm not all that passionate about aerospace. But, Restaurants are in my CC (Circle of Competence), I can fully understand the industry and it's dynamics, and I love to cook!

Developing a CC is important to investing success. After all, if you can't/don't understand a company or it's industry, then how will you know if the company reports a good/bad financial year? Or how will you know that the decisions the management is making are right for the business?

So, how would one develop a CC? Well, you can do it two ways:

1. Go to ruleoneinvesting.com and sign up for their Toolbox (it's free I believe!). I like this option better because in their software, they have a whole section were you can find your CC. They ask you what your talented in, what you spend your money on, and what has meaning to you. They call it the "3 Circles". After you input everything, they will give you a list of all the companies you have a great chance of understanding. Then, you can use the software to analyze those companies as well. I use it and it works really well!

2. This second option requires more time, but it's worth it.
a. Take a piece of paper and divide it into 3 sections and start filling them in:
     Section 1. What industries have meaning to me?
     Section 2. What industries do I spend money on?
     Section 3. What industries am I talented in based on my current or past jobs?
b. After writing that all down, Google each industry. Find a public company in that industry and go to their website.
c. On the companies website, go to their "Investor Relations" or "Investor Info" or "Investors" page.
d. Navigate through it and find and print last years 10-K (Annual Report). This is usually under "SEC Filings".
e. Start reading it.
f. By page 15-20, if you feel overwhelmed, or simply don't understand what the hell this company does, or your having a hard time keeping up with what they're saying, stop reading it.
g. After you've stopped reading the 10-K and have come to the conclusion that you can't really "fully" understand this company or the industry, take a pen and cross out that industry on your list.
h. Keep repeating this process until you have found a few industries that you "fully" understand, or have the ability to understand. This will take time. But what good things don't require patience.

What makes this section so hard is that you have to be completely and utterly honest with yourself. You need to be able to tell yourself "I don't understand this industry/company" or "I'm not passionate about this industry/company", and be willing to cross that industry out and move on.

Let me give you a head start here and tell you that, if your a new investor or even an investor who has been doing this for years, they're some industries that you should avoid all together simply because of their complicated accounting rules, or overall industry until you've got some years under your belt in researching:

Banking - Different accounting rules and regulations. Stay clear of them unless you have talent and knowledge of banking.
Pharma - Can be complicated for new investors.
Oil - Can be complicated for new investors. Depending on the sector, can have different accounting rules.
Insurance - Complicated accounting and regulations.
Financial Services - Real estate or market service companies can be complicated businesses. Accounting can be different as well.
Major conglomerates - These companies are made up of subsidiaries and smaller companies within them. This can make for a complicated analysis. I would stay clear if your new.


Sticking with it:
Successful investing starts with principles, and being willing to stick to them. Having a CC doesn't make you any less than any other investor, it makes you smarter, more focused, and more happy! 

I recommend making a final circle, and writing all the industries you found you understand and are passionate about, and posting it in your office/workspace. 

You must have the discipline to look at an investment and say no. Remember, the market pitches you 500 different investing opportunities every day, and your the one holding the bat, your not being forced to invest in anything, it's a choice to swing for the ball.

Keep an eye out for the followup posts. Hope this helps you on your investing journey!

Cheers!
Greetings fellow investors!

You might have heard of the investment term "Depressed Value Purchase". It is essentially a strategy of buying a depressed stock with quality assets, and profiting when the market realizes it made a mistake pricing the stock so low.

I believe I have found a very clear "Depressed Value Purchase". Take a look!

Overview:
Energy Transfer is the U.S's largest midstream company. The company has 90,000 miles of pipe in the U.S, shipping about 22 trillion British thermal unit per day of natural gas and 4.3 million barrels per day of crude oil.

ET is NOT an oil driller or refiner. It's main business is transporting natural gas and crude oil around the U.S. It makes money by charging a fee for it's transporting services, think of it like paying tolls for roads, they essential have the same business.

Energy Transfer's revenue is value stable due to their business model, along with their free-cash-flow.

Balance Sheet:
You might be thinking, "Why is this  idiot not starting with revenue or net margins?", let me explain. This is a very special investment, where company growth or margins matter very little, to nothing at all. The reason for this is because the main value of ET stock is with it's assets.

As I said earlier, ET is the U.S's largest midstream company. Currently, ET has some of the most valuable natural gas and crude oil pipelines in the U.S. This means that they're assets are very valuable and they're worth a lot of money. Here's how the assets shake down: (dollars in millions)

Total Assets - $98,880bl 
     Property, plant and equipment - $74,193
     Intangible Assets - $6,154
     Cash - $291
     Advances in investments of unconsolidated affiliates - $3,460

What I hope you got out of that was noticing that 75% of all the company assets are made up of their pipelines and equipment. The other assets I mentioned are all viable and are just as valuable (except cash, which fluctuates). Let's take a final look at the balance sheet:

Total Assets -  $98,880
Total Liabilities - $65,035
Total Equity - $33,845
Equity Per Share - $12.22

What I hope you got out of this was realizing that the companies equity per share is 45% higher than the companies current stock price ($6.82). This is an insane mistake by the market, and one you can certainly take advantage of.

Debt:
Some of you probably looked at the companies balance sheet, and noticed that the companies long-term debt is a whopping $51,028 billion. This, and another catalyst, has been what's weighing the stock down lately. But, I'm here to say that the debt the company holds will be going nowhere but down. Let me explain:


 The management has spent the last 5 years growing the companies revenue and acquiring valuable assets. During that time, they mainly used debt to fund their ventures. But, as of the last earnings call, the management stated that ET is heading in a new direction, and that the heavy growth will stop and the focus will be on taking down debt.
The management stated last quarter that they're core focus is on taking down the debt, decreasing Cap Ex, and increasing free-cash-flow. These are the kind of words you want to hear from management!
 The company has announced plans to move towards a ~4.2-4.3x leverage target, which would imply a ~$6 billion debt reduction saving hundreds of millions in annual interest payments. 

Free Cash Flow:
Energy Transfer will likely earn ~$5.5 billion in 2021 FCF, the lower end of ~$5.3 billion bottom in 2020 (annualizing 1Q + 2Q DCF of $2.66 billion) and $6 billion in a normal year. The company plans to spend $1.3 billion in growth capital and its newly cut dividend costs it ~$1.6 billion annualized. That's ~$3 billion total leaving ~$2.5 billion in FCF post cuts. Counting the $700 million in growth capital cut from 2021E to 2022E, along with a continued recovery, the company should be able to hit its debt target by YE 2022.

Essentially, the company has proven in the past that it generates a monstrous amount of reliable FCF. They will use most of it to pay off the debt of course, but they will also use it to pay dividends (more on that later).

North Dakota Pipeline:
This is the second reason ET stock has been lingering. This event has actually been going on for a few years now, and 2021 looks to be the year that ends this event. What essentially the case for removal is about is that the Army Corp of Engineers believes that the pipeline is bad for the environment and that the pipeline is infringing on the Native American Land regulations. In my opinion, the pipeline will remain in operation and the Biden Administration will not choose to shut it down. The main reasons for this is:
 No pipeline that has been in operation for over a year has ever been shut down.
The shut down would cost the local economy jobs and lost revenue.
ET is in line with all laws and regulations.
Two of the Army Corp lawyers have stepped away from the case. (Source: https://www.reuters.com/article/us-dakota-access-pipeline-corps/army-corps-attorneys-withdraw-from-dakota-access-pipeline-case-idUSKBN2AC1UT?source=content_type%3Areact%7Cfirst_level_url%3Anews%7Csection%3Amain_content%7Cbutton%3Abody_link ) 
This news has been the major driver of the stock weakness over the passed few years. I believe that once this news is settled, ET stock will come raging back into the mid-to-high teens.

Recently, the Army Corp of Engineers has ask for a two month delay on the hearing. The court hearing was scheduled for Feb 10, 2021. It has now been moved back to April 10, 2021. 

The ACE believes the pipeline is operating illegally without the proper permits. The thing is, ET was granted all the proper and legal permits by the Trump Administration. I believe most of this is political and ET will be able to continue with the pipeline operations as usual.
Insider Support:
This should say enough: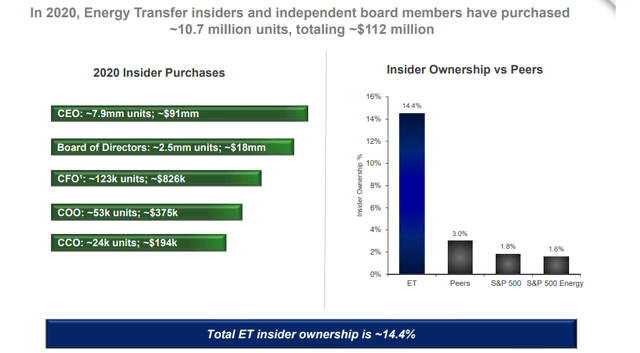 Growing While Taking Debt Down:

ET doesn't have to grow organically or by acquisitions of pipelines for them to grow. Why? Because as their interest payments decrease every year, the net income will rise. If the company meets it's target to cut $6 billion in debt, this will decrease interest payments about 11%, and increase net income by 10%. Essentially, if the company does nothing but pays it debt down over the next 2 years, the net income will grow by 5% each year.
Dividend:
This is also what makes this investment ideas so compelling. The company used the pay a quarterly dividend of $0.30/share. Recently, due to the pandemic, ET lowered it to $0.15/share. Here's the deal. The current yield on the stock based on the current dividend is 9%! First, that is a crazy awesome yield! Second, it should increase to 18% within a year or two.
I believe, within a year, ET will raise the dividend back up to it's formal $0.30/share. This would mean that at the stocks current price, the
yield would be a monstrous 18%!
The dividend adds a sort of "floor" for the stock at a 10% yield. Which would imply that, in the near future, if the dividend is raised back to the normal $0.30, the floor on the stock would rise by about 80%. The stock would follow the floor in reality, because in order to keep a 10% yield, the stock must rise to about $12.
Bingo!Summary:
Okay, so maybe it wasn't so short, but, did you learn anything? Here's what I learned:
 ET has a sustainable and predictable businesses model with steady revenue to free cash flow.
 The debt problem is not so big a problem considering how much FCF and DCF they will have each year to pay it down.
Management believes it can accomplish it's goals as well, with insiders owning a whopping 14% stake of the company.
As ET pays down it's debt, it does not need to grow for years as the interest expense decreases, increasing net income and FCF.
The value here is with the assets. ET currently has a stable equity per share value of $12.22. This means that, if the company shut down tomorrow and sold off everything, you would receive $12.22/share. This is a major market mispricing that I believe won't last very long. It is a rare opportunity to buy quality assets at equity, yet alone 45% below equity! 
The market has missed priced ET due to the factors of debt and the North Dakota pipeline news. I believe that the pipeline will remain in operation, as no pipeline that is in operation has ever in history been shut down due to the economic effects and local job losses.
The current dividend yield provides a stable floor for the stock. But, if the dividend is raised back to it's regular level, the stock would increase by about 80% to meet the 10% yield floor.
My valuation/buy price is under $8/share. 
I believe ET will return to the $15/share range soon, depending on when the North Dakota Pipeline event ends.
Cheers!
P.S I believe everyone should do their own DD! So here are some helpful links to articles that will help you do that:
If the links don't work, you can find all of these articles on Seeking Alqua.








Posted in General Discussion
I am officially done trading. I'm going to boomer everything in to mutual funds. I have lost money in February, March, and April while the S&P is up 12.5% over that time. I sold $14k worth of DOGE two days ago for $2k. It's apparent that I don't know WTF I'm doing so before I lose more money, I'm going to let the fund managers handle the trading.

It's been fun (minus losing money) and a learning experience. I wish you all the best of luck and good fortunes.  

Cheers!
Alright, flash post alert! 

$GME and $AMC are going 🚀 again. Before all this gets crazy again I would like to offer some words of caution:


 If your in the stock, consider taking profits. These rises are fun and exciting, but in order for you to gain anything, you must click to sell button. You have no idea if GME will be at this price in the future, so be rational.
 If your not invested, don't buy it! Because no one knows how high it will go, or if will crash two days later, stay clear of it. Now, if you want to purchase 1 or 2 shares and risk a "little" portion of your portfolio, that would work.
If your thinking of doing a certain trade because of GME or AMC rises, be careful! Watch out for implied volatility and price inflation. Don't pay too much for an option. Make sure you hedge!
No body knows why it's going up. WSB people were already invested in the stock and have held since the last rally, so this might not be them? Because we don't know exactly who or what is causing this, be careful.
Be happy if your a $SRG holder! As you know if you've read my analysis, SRG is one of the most heavily shorted stocks on Wall Street. Last time GME and AMC rallied, SRG followed...Expect big moves for heavily shorted stocks tomorrow.
Stay rational. 

That's all! Just a few words of caution. 

Enjoy the rally GME and AMC holders! 🚀💎

Cheers!
https://www.wallstwarriors.com/c/calebs-stocks